Storyteller, shape-shifter, and classical soprano spreading joy by convening folks from distinct cultures through opera, carnival, and cabaret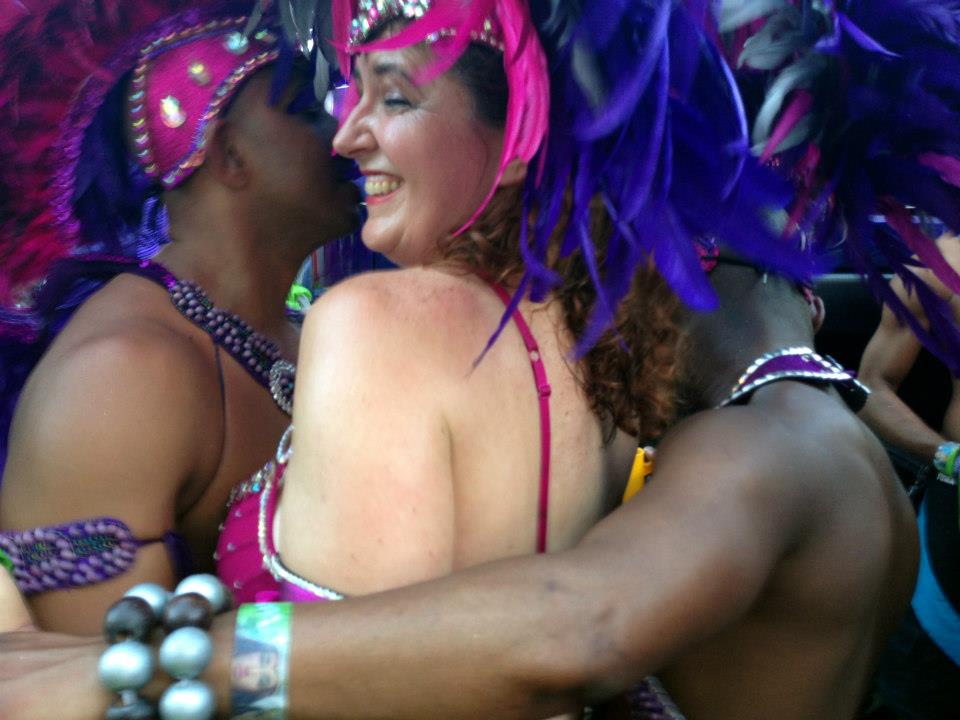 Bio
A long-time resident of Miami, Florida, I was born in Elyria, Ohio of Scottish and Irish ancestry, and grew up happily multicultural and multilingual in these United States. University-educated at Michigan, Princeton and Duke, I have also studied Haitian, Colombian, Trinidadian, and Afro-Cuban dance, drumming, and song for more than 25 years, classical European voice for 11 years, and Scottish traditional singing for 1 year. I am currently a member of the Florida Folklife Council.
My artwork is primarily produced in community collaboration, through groups I founded including Carnival Arts, Digital Hostage, Los 404, and WORDD. I am also proud to have worked with choreographers and performance artists Andros Zins-Browne; Dorís Garcia; Tino Seghal; Jenny Larsson, Octavio Campos, and in Leslie Neal's prison arts program, Artspring.
My artwork has been funded by grants from the National Endowment for the Arts, the Florida Division of Cultural Affairs, and the Miami-Dade County Department of Cultural Affairs; by commissions by Faena Arts, Reading Queer and the Miami International Airport's mia galleries; and by the generous donations of family and friends.
Currently a professor of English and Humanities at Barry University in Miami Shores, I was formerly an assistant professor of English at Penn State, a Fulbright professor at La Javeriana in Bogotá, and a visiting professor of dance theory at UC-Riverside. I co-edited the landmark Latinx dance studies anthology, Everynight Life with José Esteban Muñoz and have published in academic journals including Dance Research Journal, Small Axe, Cultural Critique, and Public.
In between, I worked in journalism, as a staff writer and national Latin music critic for New Times Media from 1999-2004 and managing editor of the Latin men's lifestyle magazine, LOFT and the event industry trade magazine, BizBash. I was the founding editor of artburstmiami.com and founding publisher of the now-defunct Miami city magazine, category305.com. I have contributed arts criticism to the Miami Herald, WLRN public radio, Opera News, and VICE Magazine.
Artist Statement
My name spells out the principles that guide my artistic practice: sky.blue.land.eros. Blue-sky thinking is defined as "visionary" or "not grounded in the realities of the present." Land nurtures life, people, and culture. Eros is "love conceived as a fundamental creative impulse." As Audre Lorde points out, through the power of the erotic "not only do we touch our most profoundly creative source, but we do that which is female and self-affirming in the face of a racist, patriarchal, and anti-erotic society": we "share our joy" and "make connections with our similarities and our differences." My work spreads joy by convening folks from distinct cultures through the erotic power of carnival and cabaret.
Spectacular, interdisciplinary, and participatory, my practice is inspired by opera, carnival, cabaret, and folkloric performance, especially from my Scottish and Irish heritage and that of my Caribbean, African American, and Latin American family, friends, and neighbors. A centuries-old masquerade where revelers turn the world upside down and perform their identities for others, carnival has challenged kings and slaveholders. Through joyous collaborations that invite contributions from all participants, my work confronts what Sasskia Sassen calls the "predatory formations" of contemporary capitalism.
My work develops through long-term community engagement and culminates in large-scale performance and exhibition that takes place off stage: on the street, on front porches, in airports, on trains, in classrooms, prisons, and shelters. Because this often means engaging unwilling participants, my work welcomes resistance to participation as a critical contribution to the performance.
My work also circulates in a digital multiverse through experimental, narrative, and documentary video and audio recordings — many of which you will find here. I hope you will join me in spreading joy somewhere online, on land, or in the blue sky.